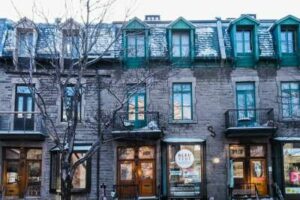 Appreciated by Montrealers and tourists alike, Plateau Mont-Royal stands out for its beautiful homes, laid-back atmosphere and countless entertainment opportunities.
Over the past century, the image of the Plateau Mont-Royal has changed a lot. Once inhabited by workers, the neighbourhood was taken over by the artsy, bohemian-looking community and later became the hottest spot in town. It's safe to say that the Plateau Mont-Royal is the neighbourhood that defines Montreal nationally and internationally.
Real estate in the Plateau Mont-Royal
A popular home for students, young professionals and artists, the area is known for its townhouse architecture, colourful exteriors, spiral staircases and wrought iron finishes.
The neighbourhood is no stranger to modernization, however, as new condos are becoming more common and residents are transforming apartment buildings into open concept homes.
The Plateau is not only the best area to walk and cycle, it is also easily accessible by public transport and adjacent to the city center.
The Plateau Mont-Royal includes the neighbourhoods of Parc Lafontaine, Mile End, Parc Laurier, Milton-Parc, De Lorimier, QuartierPortuguese and Le (grand) Plateau.
Hobbies and lifestyle
The borough offers a perfect balance of tranquillity, tree-lined streets and lively streets such as the Saint-Denis, Saint-Laurent, Mont-Royal, Du Parc and Laurier shopping streets. The approximately 5,000 small businesses that are established there, ranging from the chic to the convivial, include those that have become institutions for Montrealers such as La Banquise, Schwartz Deli and St-Viateur Bagel. The presence of many bars and clubs enhances the nightlife of the district.
Le Plateau is the ideal place for fashion and interior design enthusiasts, as well as those who like to frequent bookstores, record stores and cafés.
Green spaces are not lacking either. Just think of the popular Parc Lafontaine, the perfect place for a picnic or an outdoor show in the summer, or for skating in the winter. Jeanne-Mance Park, located at the foot of the legendary Mont-Royal, is the perfect place to practice tennis, soccer and football.
This area interests you ?