Mercier – Hochelaga-Maisonneuve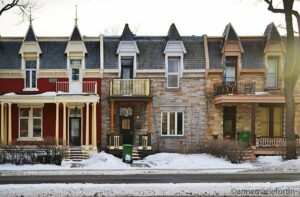 is a constantly evolving borough that has maintained a pleasant and warm atmosphere over time. Over the past few years, this borough has developed a reputation as a growing place that stays true to its humble, working-class roots.
It is in Hochelaga-Maisonneuve that the emblematic Olympic Stadium of Montreal took root, near the Biodôme and the Planetarium.
The district is home to 4 libraries, nearly 30 sports centers as well as the embarrassment of choice in terms of schools.
Real estate in Mercier – Hochelaga-Maisonneuve
Young families, students and artists settle in the neighbourhood while creating an eclectic mix of residents. The houses there are affordable and many of them are considered heritage.
The variety of housing (many duplexes, triplexes and apartment buildings) has evolved to include a significant amount of condominiums. Place Simon-Valois initiated the urban renewal project in Hochelaga-Maisonneuve and the ever-growing Faubourg Contrecoeur did the same in Mercier.
This borough includes the Mercier, Tétreauville, Viauville, Contrecoeur, Préfontaine, Hochelaga and Maisonneuve districts.
Transport
Accessibility is an important attraction for residents of the borough; it includes 9 metro stations, an express bus line as well as main arteries, such as Sherbrooke and Notre-Dame, which lead directly to downtown.
Hobbies and lifestyle
Ontario Streets and Sainte-Catherine Street galvanize the local economy since a wide variety of small businesses are established there. Marché Maisonneuve, a public market, and Place Versailles, a regional shopping center, are popular with residents.
Among more than 80 parks and green spaces, the Promenade Bellerive is the most impressive due to its location which borders the St. Lawrence River as well as the various public events that take place there.
Consult these properties in Montréal (Mercier/Hochelaga-Maisonneuve)
This area interests you ?